History
Along with one of the pictures on the starting page we want to give a few ideas on the history and development of horticultural therapy in Germany.
In 1805 the Prussian reformer Langermann opened a facility in the hospital of Bayreuth, Germany for the treatment of the mentally ill, who usually were incarcerated with criminals and other people the society was not able to cope with in a different way, but putting them in prisons, or work houses.
Langermann was influenced by Pinel and Reil ("Rapsodies") who could theoretically and practically show, that there is a cure for the mentally ill.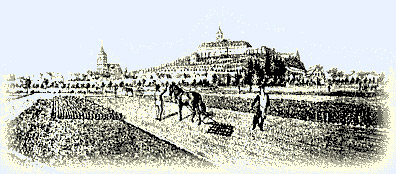 Siegburg 1825-1874.
The hosptal in Bayreuth only worked for a couple of years, before under Reil´s and Pinel´s influence hospitals and "facilities for the insane" ("Irrenanstalten") were set up in monasteries (Hildesheim 1820, Siegburg 1925), before new facilities were built (Sonnenstein 1830, Illenau 1842, Halle 1844) with a decisive, but two fold aim: to cure the insane and to seperate them from those who could not be cured by the means of those times.
An important means for treating the insane were activities of all kinds in the house, in kitchen, garden, agriculture, and animal keeping. Traces of the uses of gardening are found in the arab hospitals of Fes and Bagdad and later in those at the Iberian peninsula in Sarragossa (1725) etc.
There is more to read in: Konrad Neuberger, Geschichte der Gartentherapie (History of HT), in: Callo, C., Hein, A., Plahl, C. (Ed.) 2004, Mensch und Garten, Books on demand, Norderstedt; see also www.konrad-neuberger.de

Other authors in this book: Plahl: Psychologie des Gartens Mueller: Wurzel schlagen in der Fremde Niepel: Klinikgärten Eckholt Unterwegs nach Eden Iku Hori: Der Stein als Metapher des Lebens
et.al.