Content:
Farming for Health 2007
Green Care in Agriculture 2007
Farming for Health 2006
Healing through working
The healing dimensions of people-plant relations
The Magic of Gardens (German)
The Healing Fields
Doing Time in a Garden
The Healing Garden
et.al.
Books

NEW
Exploring Therapeutic Powers of Flowers, Greenery and Nature
Acta Horticulturae 790
Proceedings of the 8th International People-Plant Symposium, Ed. Matsuo, Relf, Burchett, Awaji, JAPAN 2004, June 2008, 292 pages, english,
ISHS, Leuven, Belgium 2007, ISBN 978-90-6605-409-7
NEW
Farming for Health
Proceedings of the CoP FfH
Proceedings of the 4th european Conference of the Farming for Health Initiative in Gent 2007, 195 pages, english,
ILVO, Merelbeke, Belgium 2007, ISBN 978-90-811007-62
Green Care in Agriculture:
Health effects, Economics and Policies; Ed. Christos Gallis
Proceedings of the European COST Action 866 Conference in Vienna 2007, 269 pages; published in Thessaloniki 2007; ISBN 978-960-12-1655-3
"Cost 866-Proceedings Green Care in Agriculture: Title and content"
www.konrad-neuberger.de "Correlation and Phytoresonance" pages 153-166 of the book
---
Eugeen Roosens, Lieve Van de Walle: Geel Revisited
After centuries of mental rehabilitation
Twenty-five years after his first publication on this topic, anthropologist Roosens and Van de Walle, manager of the rehabilitation unit, 'revisited' Geel. The book starts with a historical overview and zooms in on the famous "Gheel Question". Subsequently, it dwells on the changes that have occurred in the system over the last 25 years and explains how the psychiatric foster care programme is run on a day-to-day basis. What sets the book apart is that it draws a well-documented, realistic and graphic picture of life in a foster family at the onset of the 21st century. According to Dr. Sacks, the cases presented "provide a definitive rebuttal of the notion of mental illness as a remorselessly advancing and deteriorating condition and shows how, if there can be an effective integration into family and community life (and, behind this, a safety net of hospital care, professionals, and medication where warranted), even those who would seem to be incurably afflicted can, potentially, live full, dignified, loved and secure lives." Last but not least, throughout the book psychiatric foster care is situated within the larger framework of community care. Basically, the book tries to establish the past and future potential of psychiatric foster care as a form of balanced community care and aims at highlighting the value of fostering for the mentally ill with enduring psychiatric disabilities.
published by Grant, Antwerpen 2007
---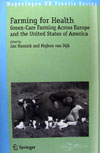 Hassink, Jan, Dijk, Maiken van: Farming for Health
Gives an overview about the Farming for Health Initiative in 12 European countries to utilize agricultural farms for promoting human mental and physical health and social well-being. Among the authors three members of GGuT.
---
Ketelaars, Baars, Kroon: Healing through working
Research on the healing effects of horticultural activities on psychiatric illness and drug addiction from the Netherlands.
---
Heathcote, Edwin: When Architecture Meets Healing
Financial Times, U.K., November 2005. Article
---
Francis, et. Al.: The healing dimensions of people-plant relations
Presentations from the research symposium 1994 at the University of California, Sacramento
---
Ammann, Ruth: Der Zauber des Gartens (The Magic of Gardens)
Ruth Ammann, an architect and Jungian analyst, tells of her experiences on the meaning of gardens for personality development.
---
Linden, S./Grut, J.: The Healing Fields
Working with psychotherapy and nature to rebuild shattered lives: using nature both as a medium of communication and as a source of healing, gardener and psychotherapist work side by side with individuals and families to rebuild lives, refugees shattered by torture and organized violence.
(2002) London: Frances Lincoln.
---
Jiler, James: Doing Time in a Garden
An engaging personal account of running a highly successful horticultural job training prograsm at Rikers Island, the largest jail complex on the United States.
---

Minter, Sue: The Healing Garden
Sue Minter has designed gardens for the Royal Horticultural Society. What makes a garden a healing garden? A therapeutic garden is still something specific, displayed on two pages.
---
Schaier, Alice: Gartenarbeit für Körperbehinderte und Senioren (Garden Work for Disabled and Seniors)
Mrs. Schaier, originating from Austria and living in the Nederlands, was one of the first to appreciate and describe garden work and publish it in German. Still available.
---
Die Baumgestalt als Biographie (The Tree´s Habit as Biography)
A specialist in physics with the research center in Karlsruhe examines and describes skills of trees to react on environmental challenges.
---